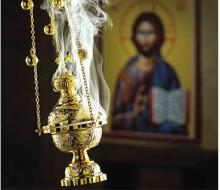 Second Sunday of the Fast
Reflections of a deacon
I thought I had seen it all over the many years I have worshipped and served at St. Mary's, but today the liturgy without the people was truly different. When I turned to cense the people and faced an empty church the reality of the covid-19 pandemic hit home. Finding comfort in the words of the priest praying after the consecration of the gifts, "Remember, O Lord, the people present, those that for good cause are absent, and have mercy on them…," today these words were spoken for all who in obedience to our hierarch and our priest stayed away to preserve the health and lives of our most vulnerable family. 
The entire world has united as one to preserve the health of the elderly, and the sick who are most vulnerable to this disease. Our personal sacrifice, being absent from the liturgy and denying ourselves holy communion, is part of a universal action by all humanity to avert a calamity in our times. In past moments of crisis, Christians sheltered in their homes and continued to pray as one at the time of the liturgy. Seeing that happen today shook me to my soul and at the same time filled my heart knowing that our shared love of Christ unites us for a greater good.
We know that this pandemic will pass and that normal times will return. Keeping things normal, keeping a routine both in household activities, in business and job related work, and especially prayer life assures that normalcy will return. One important part of our normal routine not to be forgotten is our support of the Church through giving. Our tithes and offerings ensure that the health of the Church is protected just as we are protecting our own health. With an empty church today, there was no collection basket, and I did not stop off at the bank to deposit our offering on my way home after coffee hour as has been my routine. 
If you can, if you are still employed and able to provide for your own during this pandemic crisis, please continue to support St. Mary of Egypt so that the few designated by the Archbishop to serve you at risk to themselves can meet in a place of worship we all know and love.  Mail your check to St. Mary of Egypt 925 Beaver Ruin Road, Norcross, Georgia 30093. Let's keep the lights on even in the shadow of covid-19.
I want to thank my fellow servers, choir members, and especially Fr. Cyprian for making it possible to continue offering a sacrifice from all and for all at the altar today, and with God's mercy, at every opportunity until this cloud passes.
In Christ,
Lazarus